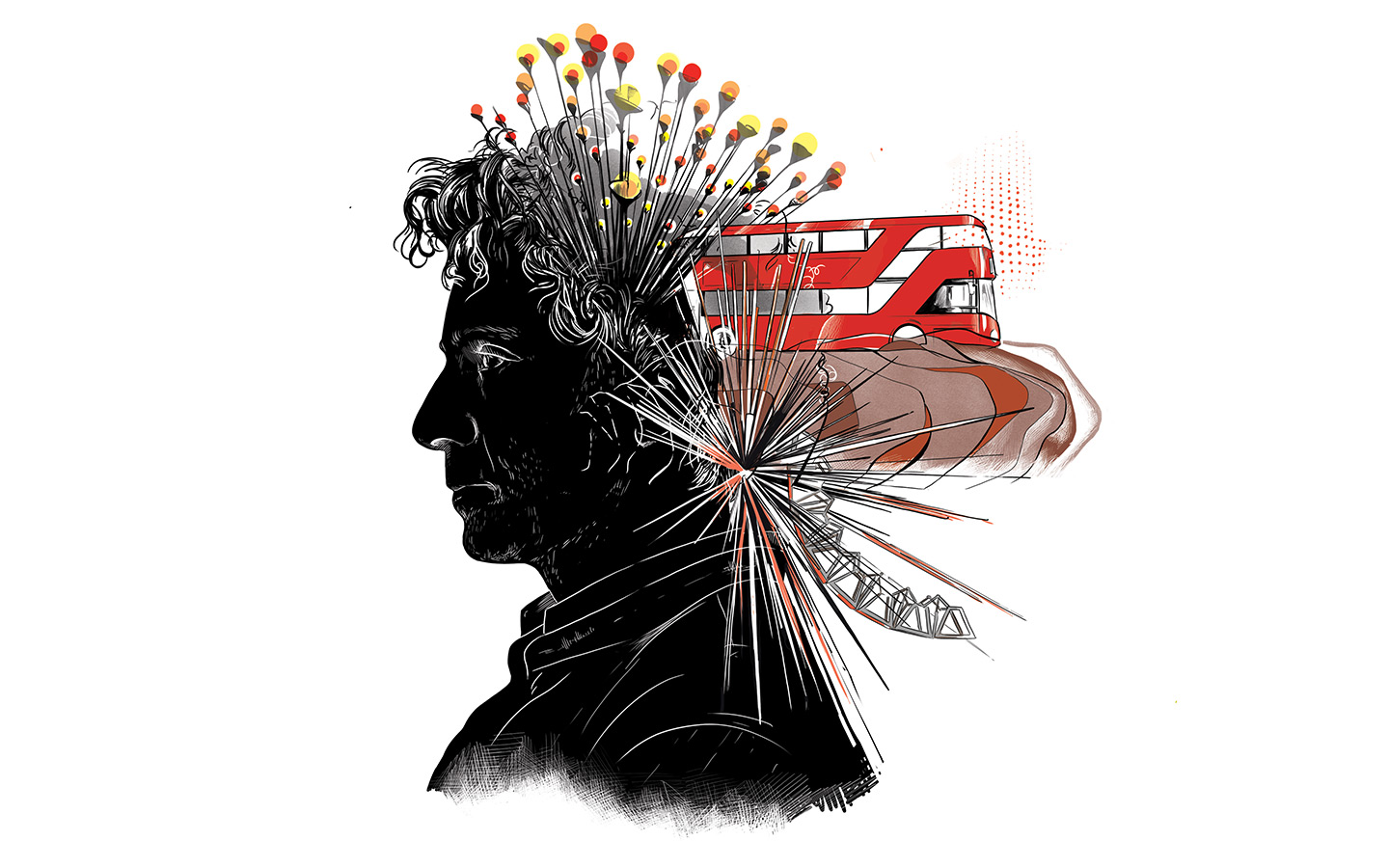 Words by David Michon.
Illustration by Rebecca Strickson.
On July 27, 2012, the work of Thomas Heatherwick's studio burst through television screens the world over, to an audience of one billion. Theirs was the design of the Olympic cauldron – 204 unique, hand-beaten, copper-sheet petals, carried in to the stadium in Stratford one by one by each competing country, eventually converging into one of the most elaborate, theatrical and memorable cauldrons in the history of the games. It is a level of exposure very few designers ever achieve, and not coincidentally, an excellent illustration of Heatherwick's brand: playful, technically innovative and unusual.
His portfolio is flush with news-making additions to streetscapes, homes and wardrobes the world over: a pedestrian canal bridge that curls onto itself instead of lifting to make way for boats, a chair that looks more like an enormous spinning top than it does something to sit in (yet is beautifully ergonomic), and a handbag made entirely out of a zip. He is also responsible for London's new Routemaster double-decker bus, unveiled just months after the Olympics, dividing opinion but securing him a name as one of the UK's most noteworthy designers.
The London-born Heatherwick, now 46, was never one to do as others have done. For his degree project in 3D design at Manchester Polytechnic in 1991, as other students made objects, Heatherwick designed a full-scale pavilion (a garden folly, rather) that has since been acquired by the Cass Sculpture Foundation. He later repeated the trick at the Royal College of Art. He'd developed a close relationship with Sir Terence Conran and, in 1994, spent the summer living and working at Conran's home, constructing a five-metre high gazebo using laminated birch – the structure still stands in Conran's garden.
Today, his studio – which now employs 200 – is working on some of the most talked about, and sometimes controversial, projects out there: the Zeitz Museum of Contemporary Art Africa in Cape Town (housed in a former grain silo), London's Garden Bridge, as well the recently unveiled 15-storey staircase-to-nowhere at New York's Hudson Yards, which crosses the boundary between public space and public art as a kind of surreal Escherian infrastructure project.
From the very start he has made a name for himself in breaking down the walls between design and architecture. "When I went to the Royal College of Art," recalls Heatherwick, "you'd go to the summer show and there was the design, then the architecture, and you'd wander around and view it, and it was like 'Mmmhmm', and then at the fashion show, everyone was sitting, they had a ticket, they were there at an exact time, the lights came down, the sound came on and it was electric." For the young Heatherwick, it wasn't clear why architecture couldn't cross over into that space: "At the time I tried to see if it was possible to show my own work as a student on the catwalk. I was like, 'Well why can't I? Why can't the design of furniture or buildings come down the catwalk?' It was just like, 'No'. I should have tried harder."
"Heatherwick is that rare combination of mainstream and anarchist - pushing us but never really freaking us out."
In describing his own work, Heathwick does his best to point out the absurdity of creating such a rigid separateness between design fields; he's referred in the past to his London-bus design as "a two-storey building on wheels". Though many architects cross over into industrial design, or vice versa, by and large they are worlds that communicate very infrequently with one another. In a lecture introduction to Heatherwick, American critic Paul Goldberger told the audience "I can't recall a figure since maybe Charles and Ray Eames who moved so comfortably between various realms of design."
As a child, Heatherwick dove into books on Edwardian inventions and patents and his grandfather's engineering books; "Ideas didn't seem to have a scale," he remembers, "and then it surprised me that the world of ideas was chopped up into all these things – and it also struck me that that was a fashion of our time, it wasn't that way a few centuries ago."
It was this questioning attitude that led Heatherwick, as the trajectories of creative luminaries tend to go, to an award-winning career and even, in 2013, a CBE. Others have reached his height, but with his confidence and eloquence, he outpaces some of his contemporaries in selling his ideas; many Garden Bridge sceptics have left presentations or lectures of Heathwick's utterly convinced of the project, even dogmatically supporting it. It's a surprisingly rare talent that makes him an excellent ally to developers seeking to get a public on board with experimental or unconventional design.
Heatherwick talks about his work in a thoughtful, detailed way, yet always with a necessary touch of distance and irreverence – he can be understood by those not attuned to design's elitist jargon. He drops the dogma of 'architecture' or 'design' and concentrates on human experience. And it's this rationality paired with a desire to elicit positive human reaction that results in aesthetically balanced work: familiar enough, yet also a surprise.
From past to present, Heatherwick has pushed this approach. In 1997, a sinuous, 200-metre wood-veneered ribbon wove its way in and out of the window of Harvey Nichols department store in Knightsbridge during Fashion Week. Today his eight-storey, concrete-façade teaching building for the Nanyang Technological University in Singapore, completed in 2015, emerges from the ground as if a bunch of parsnips is being pulled from the earth. Neither reinvents the wheel, but both similarly give you the impression that what you're seeing is a fresh idea.
At King's Cross, his work will provide one of the more expressive examples of new architecture in the neighbourhood – the adaptation of two 19th-century warehouse buildings off Granary Square into a collection of shops, restaurants, bars and event spaces. At Coal Drops Yard, set to open in late 2018, the two buildings will be stitched together by a new roof structure that sees their traditional gabled roofs curve up to meet at a centre point. Where they come together, a new, covered public space will be created, a centre of activity that will spill over into the shops.
Heatherwick, going strong since the start of the millennium when he was only in his early 30s, is that rare combination of mainstream and anarchist – pushing us, but never really freaking us out. And, much as the UK has seen extreme global success in architecture and design (with the likes of Zaha Hadid, David Chipperfield or Jasper Morrison), Heatherwick – a junior to many of them – is a benchmark in the industry.