04: Culture


Directing to Gagosian Standards


Gary Warnett interviews Gagosian Gallery director Gary Waterstone.
Words by Gary Warnett
Photography by Elliot Kennedy
For the casual gallery goer, accusations can fly when it comes to London's commercial galleries. The root of those prejudices might be a perception of snootiness, or a vision of oligarchs snapping up contemporary art like students at a poster sale.
When it's Larry Gagosian's surname on the door, expectations are towering. After all, Gagosian, who brought his brand to the UK in spring 2000, has made London a significant outpost for his art empire.
Acclaimed architects Caruso St John have been behind each space in the capital: the original (now closed) Heddon Street space, Davies Street in Mayfair and Grosvenor Hill. 2004 saw the opening of the Britannia Street location — all 1,400 sq metres of it — in the accessible but then less regenerated area of King's Cross. Each of the trio of London spaces works beautifully with its environment — no overtly modern gimmickry, but undeniable identities.   
As part of the programme, Gagosian Gallery director Gary Waterston and the team are prone to the occasional blockbuster from time to time — the Avedon Warhol exhibition in King's Cross that just ended its run is the kind of retrospective that you'd be happy to splash out and add Gift Aid to in a publicly funded space. Uniting two commercially-minded names for a pairing that focuses on some darker and political pieces, it was, as with other Gagosian exhibits, free of charge.
Still, despite the lack of ticketing and the door opened for you to enter, for some, there are invisible barriers. Walking into 20 Grosvenor Hill to meet Waterston involves walking through a discreet white door in a white wall to a hefty upstairs area housing offices, a lively looking drinks reception and an enviable array of hardback books. Waterston is an affable host whose enthusiasm for his work means that he's deep in discussion before the voice memo app even started running.
"London continues to surprise me. It continues to champion great things...London is really a global city when it comes to the visual arts."
[GW] King's Cross has changed a lot in the last decade hasn't it?
[GW] It's interesting because even then, in late 2003, early 2004 we were beginning to sort of frequent the area for the first time. I don't want to use 'dodgy' but there was certainly an air of a different time. It felt like a city in the 70s as opposed to a city now.
[GW] Was it your intention to perhaps instigate an influx of galleries to King's Cross?
[GW] We weren't going there trying to create or trying to be forward thinking. It was a purely commercial decision. We needed a large footprint, we wanted somewhere that had great light, we wanted somewhere that had real industrial scale, New York gallery style height. Everything was east and King's Cross made sense because that allowed us to bridge the practicality of many of our overseas clients coming in to hotels and offices that were based around a Mayfair neighbourhood, and their collecting habits taking them east. That made King's Cross a great location for us.
[GW] Do you think Larry's name means you've got an immediate audience for every opening?
[GW] Funnily enough I don't think the name here in London does that, it's our exhibition programme that has to do that. Larry's worked very, very hard since the 80s to build up this name, it has become a brand that's really recognisable to culturally and visually arts aware people. Here in the UK, not really, but they know if you're interested in sculpture you know who Richard Serra is. You're going to go and see that exhibition.
[GW] Is there a specific demographic in this city when it comes to commercial galleries?
[GW] It's not a demographic in a way that a marketeer would say is a demographic, it's just that there is definitely an engaged audience here in London that are aware of what a commercial gallery can offer them in terms of a viewing experience.
[GW] Does a show like Avedon Warhol bring a completely different audience?
[GW] When we have these shows, like Picasso, like Avedon Warhol, that break free of expectations we suddenly have a completely new visitor shift. They have never set foot inside a Gagosian Gallery before — we get people who have never set foot inside a commercial gallery before.
[GW] How long does a show like that take to put together?
[GW] I think it's probably best to think about every single one being completely different. Of course there's a certain checklist of final goals that you get to but how those exhibitions come together changes from artist to artist. With some studios, it requires so much more involvement - others present exhibitions almost fully formed. Going back to the original question of how long does it take, Avedon Warhol was discussed late summer 2015.
[GW] How involved is Larry in that process?
[GW] He keeps the set up and he keeps the organisational structure of the gallery down to an absolute minimum. It's squeezed so flat, as they would describe in management speak.
[GW] Does balancing the commercial aspects of the business with the love of art prove challenging?
[GW] We take our responsibilities pretty seriously and so it's not just about the commercial aspect, although we have to acknowledge that that is a major reason we're doing this, because without that working well the artist won't stay with us, the collector won't engage with us. The commerce part is at the heart of what we do. It's not just about making money but it's a necessary component to the relationships we have with our collectors and our artists.
[GW] Do London customers have a specific appetite for a style of painting or sculpture?
[GW] It used to be dictated by the size of the houses; Londoners lived in houses that could only take certain sizes paintings, whereas in New York they have big loft apartments. But of course the houses and the apartments that have been built over the last 20 years have changed all that and indeed the architecture of what wealthy people are living in, the types of buildings that they're building for themselves doesn't become as geographically limited.
[GW] So is that customer becoming more international?
[GW] London continues to surprise me. It continues to champion great things and not just within the art that we present. It's great to see other galleries, small and large putting on really interesting shows. There is an audience and there is a consumer client audience as well as just a general gallery going audience. I think London is really a global city when it comes to the visual arts.
[GW] Is that reflected in the way you're working?
[GW] I'm working with someone in Paris today by telephone for an exhibition that will happen in London and it's being curated by an Italian.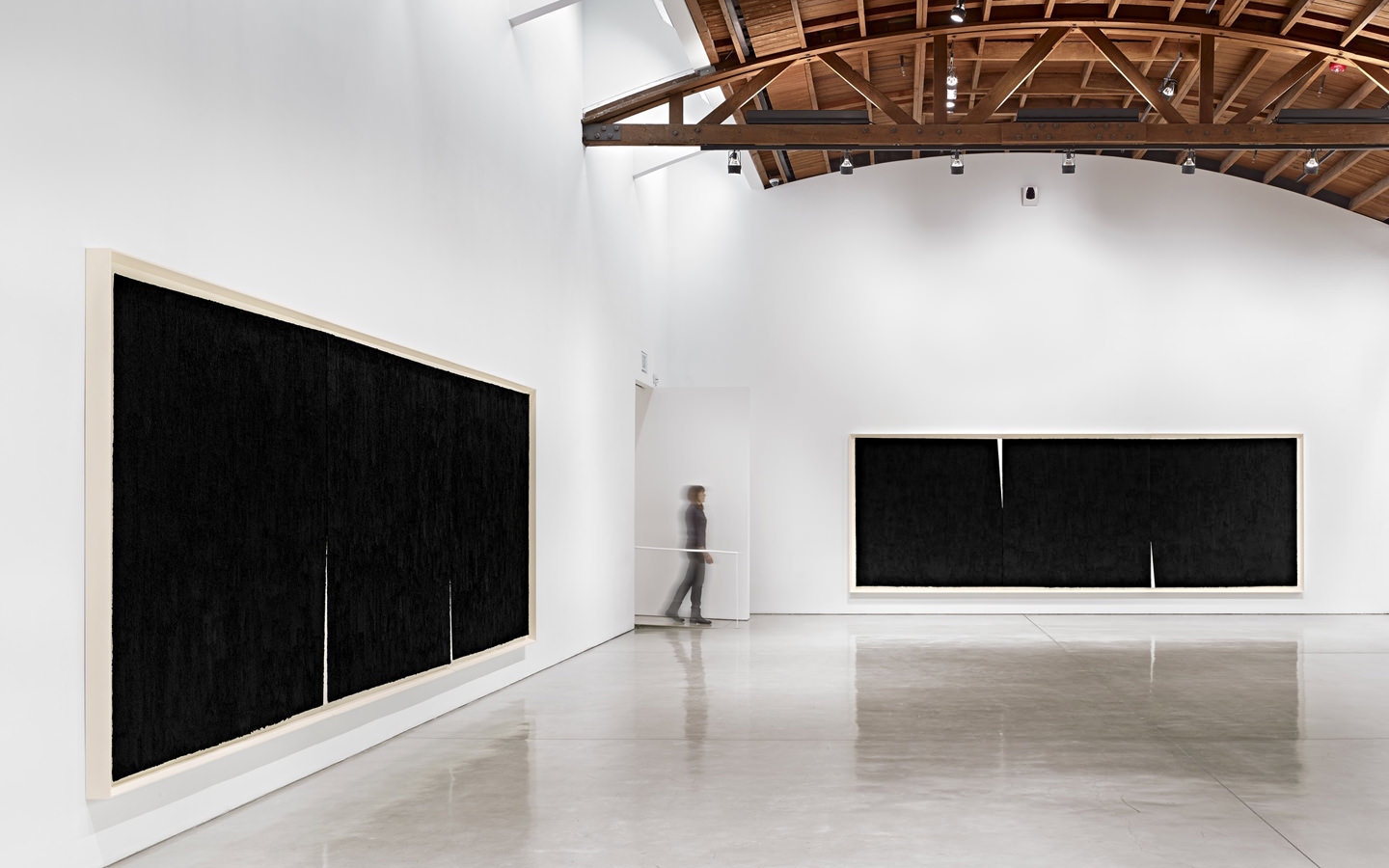 [GW] Do you have to be careful to ensure young artists are well represented beyond the household names?
[GW] It's about creating a programme that artists aspire to being part of, about creating galleries that younger artists aspire to see in their art with it. That only happens if they see other younger artists participating in the programme, otherwise it's only the so-called museum type exhibitions.
[GW] Do you think there are still invisible barriers that intimidate a potential audience at a gallery like this?
[GW] You're not there to buy, so those barriers exist so why add anything else? Let's make it as easy as possible. But even if you look at where we've put the reception desks. The reception desks are away from your sight line so you don't have to cross the path of somebody.
[GW] Has there ever been discussions about charging for entrance to an exhibition? Is that free status a nod to some kind of egalitarian artistic tradition?
[GW] We have to sit down with an artist and say, 'Right, so we're going to price the artwork that you've just created', and that's already a very difficult situation for many artists. I would hate to be them and be told "Now we've got to come up with the entrance fee to your show". Let's help grow the audience and, yes, you talk about those invisible barriers, I think about them a lot. I'm constantly trying to think of what other things we can do so that people find it easy to walk into our space.
[GW] Are cameras in phones and social media gradually making photography rules obsolete? I noticed that only one image in the Avedon Warhol was out of bounds in that regard.
[GW] The copyright is theirs so the decision on whether that will be allowed or not absolutely rests with them. Ten years ago we had several exhibitions that had specific no photography rules, you know, 'Please, no photography', particularly with loans from major institutions. I think today it's practically impossible for the gallery to present exhibitions where you say "no photography."
[GW] Are some shows being curated with an Instagram 'moment' in them, so so speak?
[GW] Not all artists want to participate that way but, yes, I see other artists creating things and you think, 'Okay, you've thought about that.'
[GW] I felt like that was the case with the big Avedon imagery in the exhibition.
[GW] We've shown those large mural exhibitions in an Avedon show in New York and so we were aware of the fact that people use the blank white space in the lineup and have a photograph done and that gets shared. We're aware of that to the extent that we worked very hard to have the lights on the opposite wall in the right place so that those images weren't showing up with a bank of lights on them.
[GW] Context still seems extremely important in art journalism.
[GW] Within visual arts, there's a certain set of structure, there's a certain good critical response. It's normally based on comparison. Comparison from what's gone, what's coming before, what an artist has done to what they're doing now, art history to today, other painters…
[GW] I saw Harmony Korine's work inside the Davies Street gallery from across the street as I walked here — is that outside view as important to you as the one on the inside?
[GW] I think the exhibitions that work supremely well in that space are the ones that are made for he street. The idea that you don't really have to enter the gallery to have basically engulfed yourself in the visual presentation and I think those are great, really, really great successful shows.