Elbe Lealman, head designer at Folk, shares her methods and influences.
Words by KIOSK
Cover Photography by Anton Rodriguez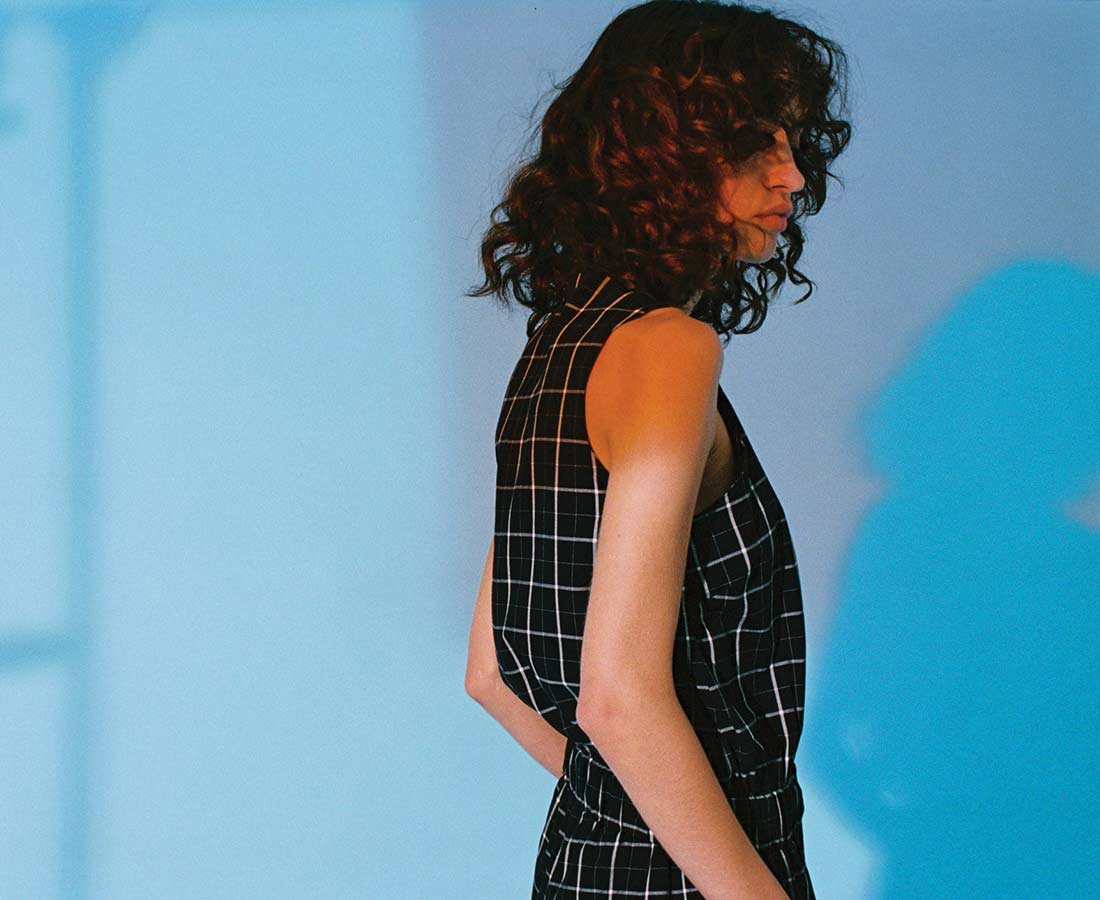 Elbe Lealman has designed for Folk Clothing for the last 13 years. Starting out as a footwear designer she moved onto menswear, working with founder Cathal McAteer in the early years to create collections. As Folk grew, offering womenswear as well as men's for the last 5 years, Lealman became Head Designer. Lealman has also started her own kid's brand Wynken. We met to talk mentors, inspiration and process.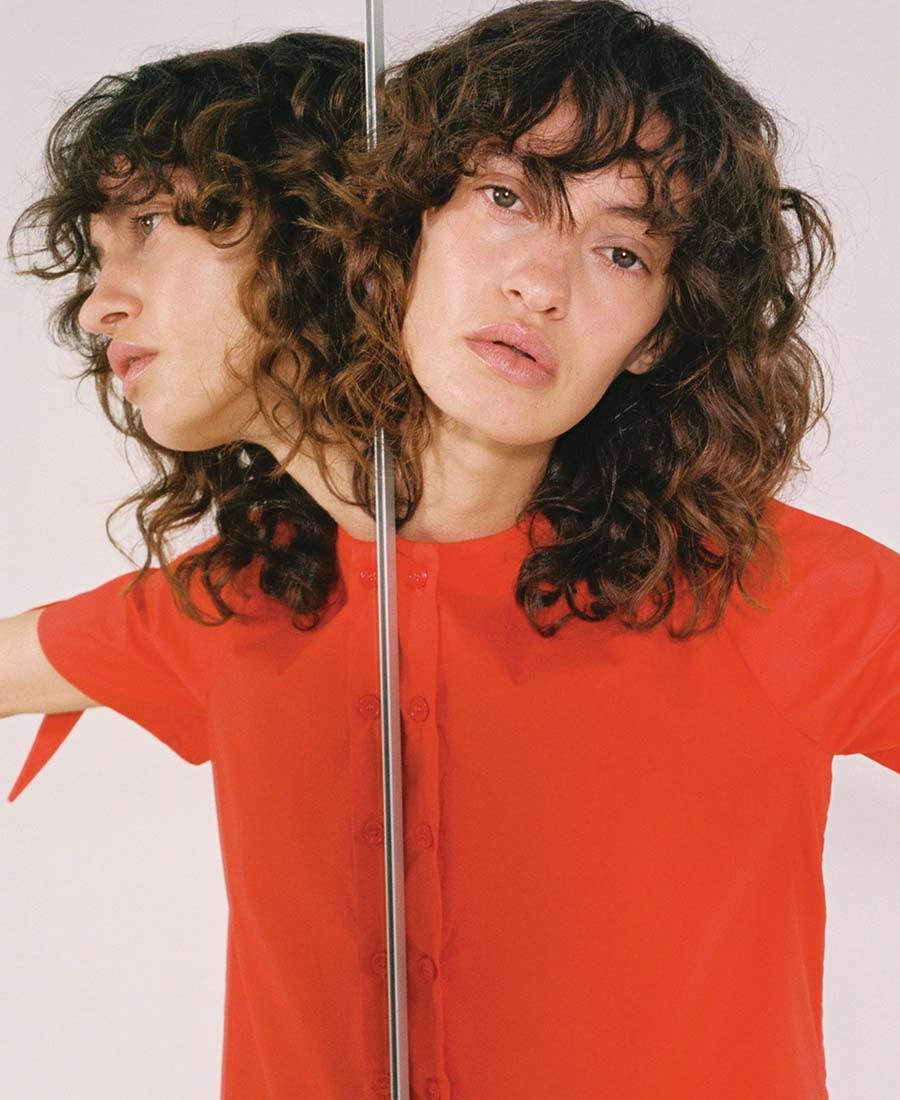 [K] How did you come to be doing what you do?
[EL] I always wanted to be a fashion designer; when I was really little I would cut out fashion pictures from the newspaper and stick them down and copy the text from the newspaper underneath. I think I even laminated some. I didn't realise it was an actual career that I could do until late on in my teens. At home it was pretty much a given none of us would stay in Bradford. I went to Northumbria University to study fashion in the late 90's. I left in 2001 with a first class but didn't get a job very easily.

[K] Who influenced or mentored you as you learned your trade?
[EL] When I was training I was really influenced by Japanese design; Rei Kawakubo of Comme des Garcon, Junya Watanabe, Issey Miyaki and the Belgium designers Martin Margiela, Ann Demeulemeester and Helmut Lang. The Internet was not as we know it and Dover Street Market didn't exist so they were all so much less well known. Coming out of University with quite an avant guard collection was not going to get me a job very easily.
I was supported by one of our visiting tutors, Mark Whittaker, who had a fashion label in the 90's under his own name. Mark called me after I had finished university and offered me a work placement which I accepted and moved to London. He and his boyfriend really looked after me, they knew lots of people in fashion and crucially pushed me to go to London Fashion week and ask for work. I happened to ask a company who had lost an employee an hour before, so that got me through the door. I worked in production for them and then I went on to assist a very talented designer called Nelli who had a label Bi La Li. Finally my friend Tom introduced me to Cathal (McAteer, founder of Folk) and I started at Folk. Folk was really small at the time so I did everything from design through to production for a number of years before we took on more staff. It was great to be given the opportunity to design, finally, and for that I am very grateful.
Current influences would have to be Phoebe Philo at Celine, I think she is an amazing talent. I also love Ports 1961 and Marni. Current mentor would have to be my husband for his constant support in what I'm doing with Wynken. I have learnt so much from him over the years, particularly the business side. It is invaluable as a designer to have someone who is happy to take calculated risks, I would worry so much if it wasn't for him.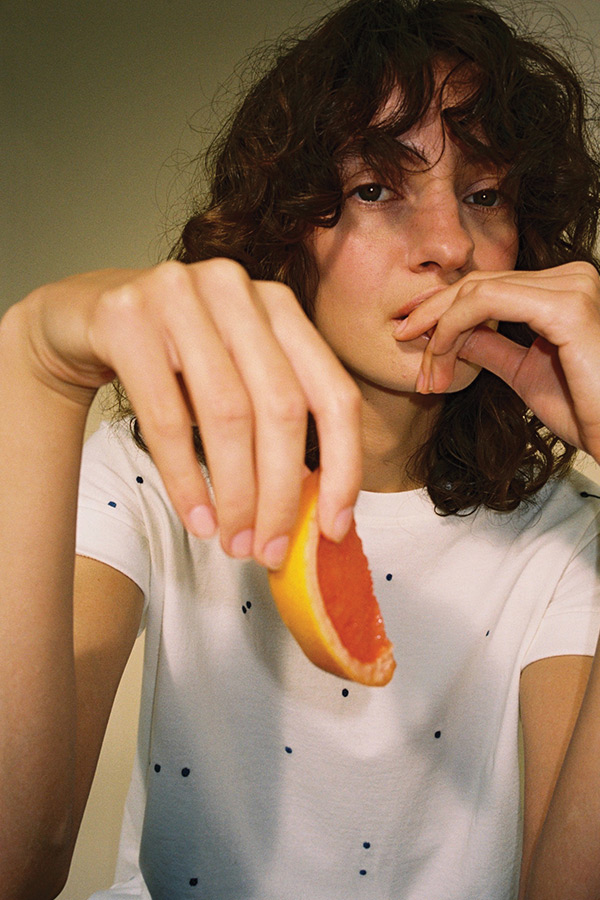 [K] Where do you look for inspiration for your work?
[EL] Each collection will have some influence from an artist for both Folk and Wynken but the approach is different for each one and its not always that obvious or the only thing I'll look at. As a designer I love colour and simple graphic pattern, I'm not a floral type of girl. I tend to follow a theme and take elements from artists and work with them. For example AW16 Folk started from seeing the Brutalist playground by Assembly at RIBA. From that four words came to mind and we worked with those to create details that ran through the collection; the soft foam was translated in to a group of pillowy wadded jackets for example. Having said that, inspiration for the up coming Folk women's collection came from a couple of nail varnishes I bought in Collette and a found piece of fabric. Fabric also has a big role to play, fabric can really inspire a garment. We often work with the fabric mills to develop and alter the fabric to be just what we need.
The Wynken collections have started to be about song lyrics; this storytelling is partly to appeal to young minds but its nice to make it relevant for the parents too. For the upcoming SS17 collection it is based on one of my favourite songs and artists; Feist and the song "1,2,3,4.. tell me that you love me more". The prints are all based on four shapes, the numbers 1,2,3,4 and different broken heart applications.
I guess I'm interested in the process of the idea and where it can lead to. I try and do things differently even if its a well-known shape like a heart.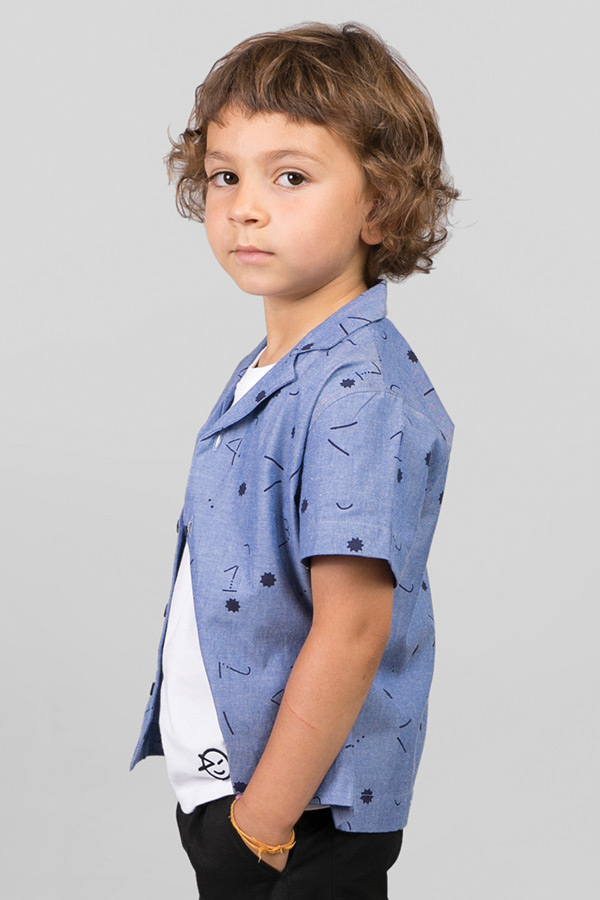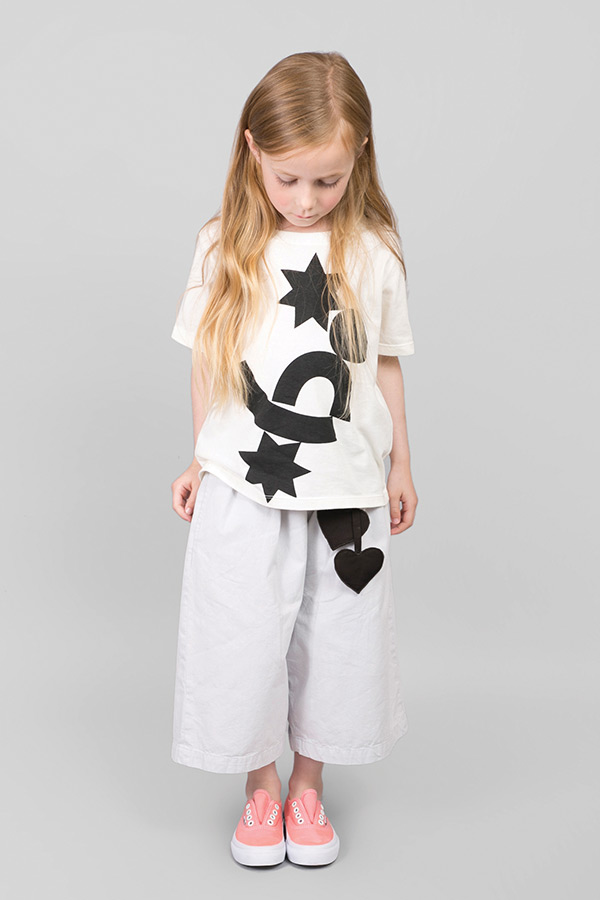 [K] If you haven't already, can you tell us a little bit about your process?
[EL] I do some of my best work on the train or a bus when my mind can wonder and I get time to imagine. I get less time to do that these days (Wynken emails and Instagram takes up time on the way to work at the moment). I'm best on my own, I can work in the Folk studio but I prefer to be at home. We bought a house and converted the attic and that's my Wynken office, I love designing up there.
[K] How do you fit real work in around meetings/trade shows/life?
[EL] At the moment I don't really know. I'm constantly feel pretty tired, the last few months have been particularly hairy with production of SS17 and new AW17 kid's collection to design. I keep thinking it will get easier but it just gets bigger and more important nothing goes wrong. It helps that Folk is flexible and my husband can be too, we don't have family near by but we seem to manage. I think the important thing is spend enough time all together at the weekends even if I have to work part of them to keep up with Wynken. I think Fraser has cooked most of our meals for the last month, he does lots to support me. Once you become a parent you yourself become the last thing to think about. That's the bit that sometimes frustrates me. Its quite hard not having much time for yourself and having a constant to-do list but I wouldn't have it any other way.
[K] It seems that with the internet and constant demand for content that there has to be more than one drop per season for a lot of brands, how do you approach that in your design work?
[EL] We are doing pre-collection on menswear and we do a capsule collection twice a year for Mr Porter. I think the challenge is to stay fresh and input new ideas in to each collection. There is always an element of carry-over styles that are reinterpreted but its important to start with a fresh starting point so we don't become stale as designers. We recently starting working with a print designer which has added a new element in to the range. I think its about looking outwards to see how you can do things differently and work in new ways. We have just delivered into the Folk stores a couple of knits and a hat that are knitted in Peru from natural un-dyed colour Alpaca yarn in conjunction with the Inoe Brothers. They are beautiful and have a really interesting story behind them.
[K]What lies ahead for Folk womenswear and your other projects?
[EL] I'm looking forward to focusing on womenswear and having much more time to develop ideas and widening our reach.
For Wynken I'm planning to grow it internationally, we will be in 7 countries and 17 stores for SS17 so I'm pleased with the way it is going. We have smaller boutiques and larger retailers on board which is a good mix. We need to work on our exposure both to the end customer and for wholesale. We do most of our selling through a trade fair in Paris each season along with a UK agent. I hope to have more time to focus on contacting international stores and possibly working with agents internationally. Developing the webshop and in the not too distant future a bricks and mortar shop!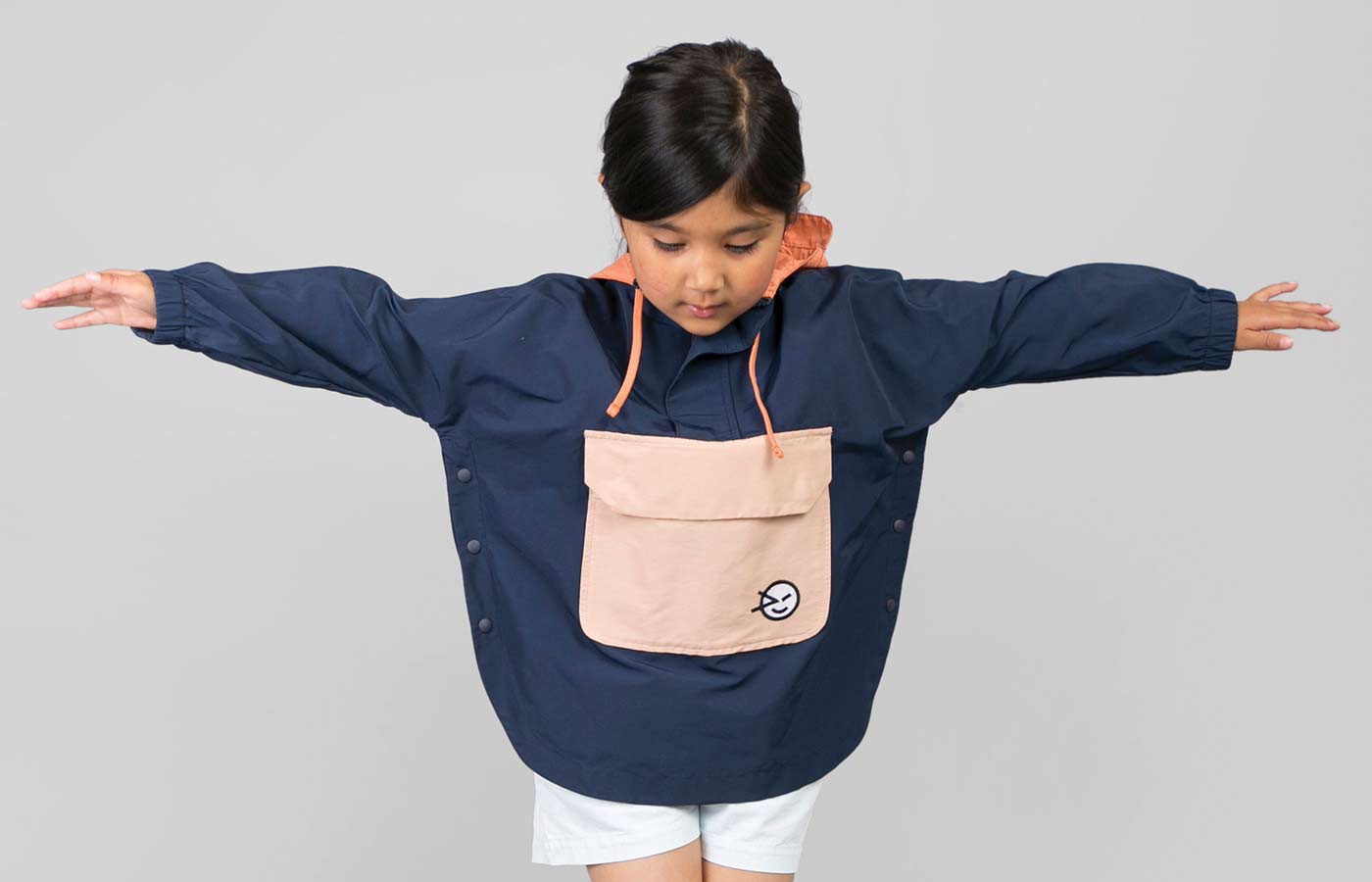 Folk
Photography: Hannah Moon
Styling: Victoria Higgs

Wynken
Photography: Taran Wikhu