03: Product


Sharmadean Reid


What's harder than nails?
Sharmadean Reid makes it all look easy.
Words by Calum Gordon
Photography by Will Robson-Scott
'Sleep is for billionaires' is the enduring motto of WAH Nails founder Sharmadean Reid – which is probably just as well for someone who switches between being an entrepreneur, activist, author and mother… all in the space of a single morning.
A Central St Martins graduate with an inimitable style that adeptly mixes high-fashion with Supreme, Reid spent some time as a stylist and trend forecaster before launching her would-be empire. WAH was initially launched in 2005 as a zine dedicated to showcasing fellow females who were killing it within creative industries. This was pre-Snapchat, pre-Instagram, pre-getting-paid-simply-for-having-a-blog. Fast-forward to 2009 and Reid decided to launch WAH Nails, not only as a venue that would pre-empt the trend for intricate nail art, but so that girls had a place where they could meet, have a drink and chat. The move was an extension of the initial idea for her zine – WAH Nails engendered the kind of support network and space for creative females that allowed them to flourish, plot and just unwind.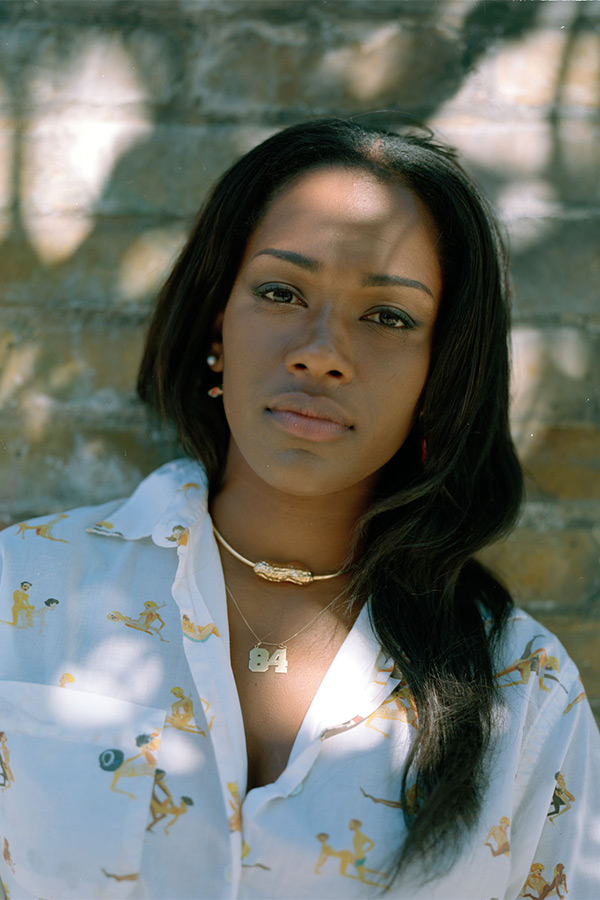 That ethos is at the heart of much of what Reid does – it's not simply about the end point, a flawless new nail-look or a mini-empire, but about the journey itself. In the past, Reid has labelled her route from fashion stylist to entrepreneur to MBE as "long-winded" which you sense is what motivates her to share her experiences and facilitate situations so that fellow females don't have to follow such a convoluted route to success – not that it has done Reid any harm.
Shortly after the launch of her shop on Kingsland Road in 2009, came an in-store salon at Topshop, followed by an MBE in 2015 for her services to the beauty industry. In the space of six years, Reid's list of personal accomplishments is beyond impressive. What's perhaps even more admirable is the work she puts in so that others can follow in her footsteps. She regularly hosts power lunches for fellow entrepreneurial women and recently launched 'FutureGirlCorp' which is an expansion of this idea.
Described as 'A free 12-hour Business Workshop Marathon for Future Female CEOs,' Reid's mission statement is clear, concise and unflinching in its bold attitude – one that you suspect has been something that has underpinned much of her work to date. "Now has never been a better time for women to become entrepreneurs and we want to encourage this next generation of female business leaders to think bigger," she writes. "In this fast-moving landscape, winning big is what matters and FutureGirlCorp believes it's important to educate this audience to understand strategy, business modelling, finance and marketing to build global corporations, not kitchen-table ones."
"I think it's really important to be close and accessible so girls can be like 'oh she's just two steps away from me' not 10 steps."
The workshop includes panel talks, networking opportunities and seminars, bringing together some of London's brightest and best. The list of speakers and contributors ranges from high-ranking Google advisors to independent businesswomen. "The whole thing with Future Girl Corporation is that imagine a board room and instead of a bunch of old men, it's me and my friends. It's a kind of a piss-take of what we view as a corporation. That's why we are partnering with Johnnie Walker on this event. People think of whiskey as an old man on the golf course drink and I love the idea of having a bunch of young girls making power moves and drinking whisky sours instead of prosecco," Reid told Refinery29 earlier this year. She hopes that the success of the event, and future events, will inspire others just like her, providing a roadmap to success based on the experiences of herself and her peers: "I'm 32 and most of the women who are speaking are 25-35. I think it's really important to be close and accessible so girls can be like 'oh she's just two steps away from me,' not 10 steps. Being aspirational and achievable is really important."
As for Reid and WAH, there are plenty more projects in the pipeline – there's the continuation and expansion of their on-going work with Boots, a collaborative clothing line with ASOS slated for later this year (most of which takes inspiration from the off-duty outfits of Princess Diana), and the launch of WAH Soho. There's also the small matter of looking after her son Roman and then, if it's possible, eeking out small moments of time for herself as someone with a beyond-hectic schedule – which ironically is kind of why WAH Nails came about in the first place.