01: People


Studio Nicholson


Leanne Cloudsdale talks to Founder and Creative Director Nick Wakeman.
Words by Leanne Cloudsdale
Photography by Elliot Kennedy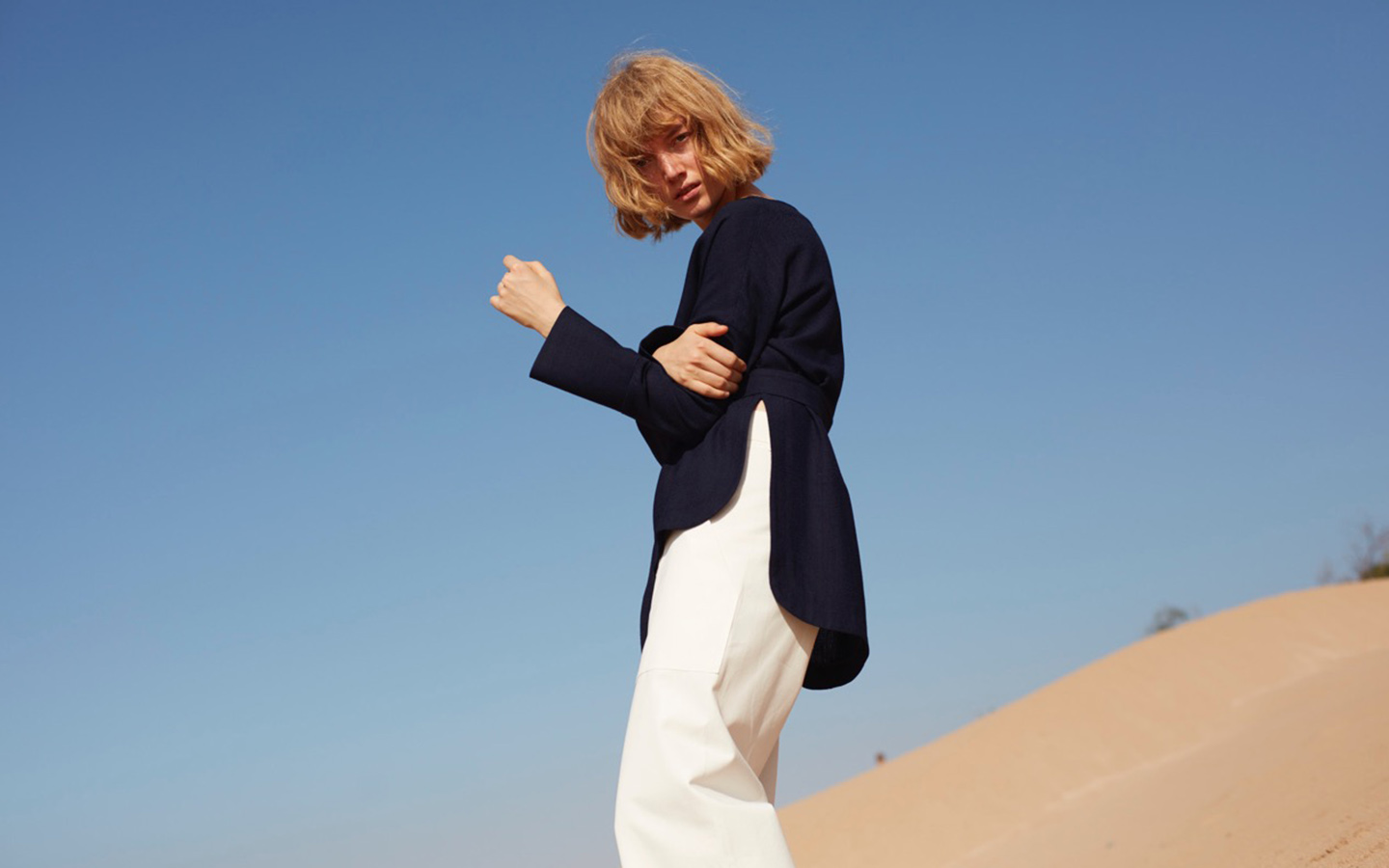 Based on the ground floor of a Grade II listed building, the Studio Nicholson headquarters occupy a former Victorian coroner's court in the heart of London. Flooded with sunlight thanks to magnificently sized windows, the whitewashed brick walls, exposed pipework and parquet flooring make this an ideal environment for Nick Wakeman to create her inimitable clothing collections. 
After studying Textile Design at the Chelsea School of Art, Wakeman packed her bags and flew to Italy for her first stint as a designer at Diesel, specializing in prints and graphics. After three years she returned to the UK and to work with the menswear team at Great Britain's High Street powerhouse Marks and Spencer, learning valuable lessons about fabric, fit, audience and commerciality. Armed with these occupational nuggets, she took her first calculated risk – and opened a store in Notting Hill, selling independent labels such as Silas & Maria and Hysteric Glamour. "The shop was a real mecca for Japanese kids in the late 90s and early noughties, who saw it as a great place to come and spend their parent's inheritance. Notting Hill back then was really buzzing with young, juicy creativity, which has sadly been squeezed out by money nowadays. Once I saw that happening, I decided to launch a brand called Birdie in partnership with Beams in Japan. After a successful nine years I closed down that brand and took two years off to start devising the formula for Studio Nicholson." 
The brand launched in 2010, after a period of extensive research and focus on the components that could make dressing each day a pleasure, rather than a stressful chore. A tomboy for the duration of her childhood, Wakeman's seamstress mother was a dab hand at home-made denim dungarees, which would often shrink in the wash. "I would say this definitely made an impact on the way I now appreciate clothing. Mum was making me almost everything from a really young age. We would go out shopping to choose fabrics, and then we'd amend the pattern together at home. The particular silhouette of those things we'd rustle up together has definitely been a major influence on the concept of Studio Nicholson." Time away from the design day-job proved fruitful, allowing her necessary space to restructure her lifestyle at a pace that felt comfortable, and embark on building the blocks of a brand new label. "I wanted to rethink what the next phase of my life would look like. I've always been a big life planner! I knew I'd changed a great deal, and this was reflected in the clothing I wanted to create. I started speaking to friends and trusted heads on the inside of the fashion industry to try to understand what kind of items they felt where missing from the shop floor. Armed with this information I went home and began looking through my own wardrobe at the items that made up my own style DNA – men's shirts, jeans and knitwear, all tailored to fit me. The answer was right there in front of me. I wanted to create a modular wardrobe consisting of simple, precision cut, well made pieces that would work for women with busy lifestyles. The emphasis right from the start was on wearability, quality and accessibility. I knew there was a secret tribe of women out there who wanted exactly the same as me."
"There is something so chic, playful and inherently youthful about the proportions of Studio Nicholson pieces."
There is something so chic, playful and inherently youthful about the proportions of Studio Nicholson pieces. Pulling off the androgynous aesthetic whilst retaining an air of sophistication and luxury is no mean feat, but Wakeman has wholeheartedly immersed herself in the pursuit of evolving the brand, subtly refining key shapes each season to cater for her committed customers. She is careful to maintain a deliberately limited colour palette of navy, khaki, summer sky blues, whites, creams, blacks and greys, ensuring that items bought from every season are easily interchangeable and ideal for layering. With such a steadfast base, she's then able to play with the occasional energetic burst of colour, which she adds into the knitwear, or delicate fabric categories. With every collection, she genuinely nails the formula for understated and effortless thoroughly modern attire. 
The womenswear landscape has changed significantly over the past six years, which is something that Wakeman has been only too aware of, and notes that "my biggest obstacle has arisen only in the last year or so, because the market has suddenly become totally saturated with minimalist brands. When we launched there was only really Céline and Margaret Howell, and suddenly there's a whole new crop of young designers making that kind of product. I had to really think about what sets us apart from the heap of brands out there with a clean look. I truly believe that my 22 years of experience in design, production and business are at the core of what our buyers believe in – the culmination of that knowledge is palpable in the garment." Her penchant for using superior quality fabrics is well documented, but coupled with savvy production choices she can offset this cost by manufacturing her collections in Italy, Portugal and the UK, with the occasional production run in Japan. Fairly priced, her garments are made by skilled technicians, with whom she's worked with tirelessly to translate the ethos of her brand, so that with every finished piece she can be reassured of getting the perfect fit and finish she continually strives for. 
Travel is crucial to Wakeman, "I feel just as at home in Japan as I do in London. I need some sense of order and space to survive, and Japan does this for me – as does California, another favourite spot of mine. Architecture is a massive inspiration when I'm designing, and both Tokyo and the West Coast of the USA are great places to really soak this up. If what happened in Notting Hill (with the influx of wealth forcing out the creatives) happens here in east London, I might consider getting out over the next few years. I would strongly consider moving to Tokyo and developing an even more accessible Made In Japan Studio Nicholson line over there." But for now, her focus is still firmly in London. She undertakes her role as creative director with an air of serenity, which she puts down to eight years of practicing yoga "It stops my busy mind and puts my body back together. In the studio I quite often tip myself upside down into a headstand at 4pm; it reverses my blood flow, stimulates my adrenals and sends oxygen back to my heart. I leave work around 7pm and sleep like a baby every night."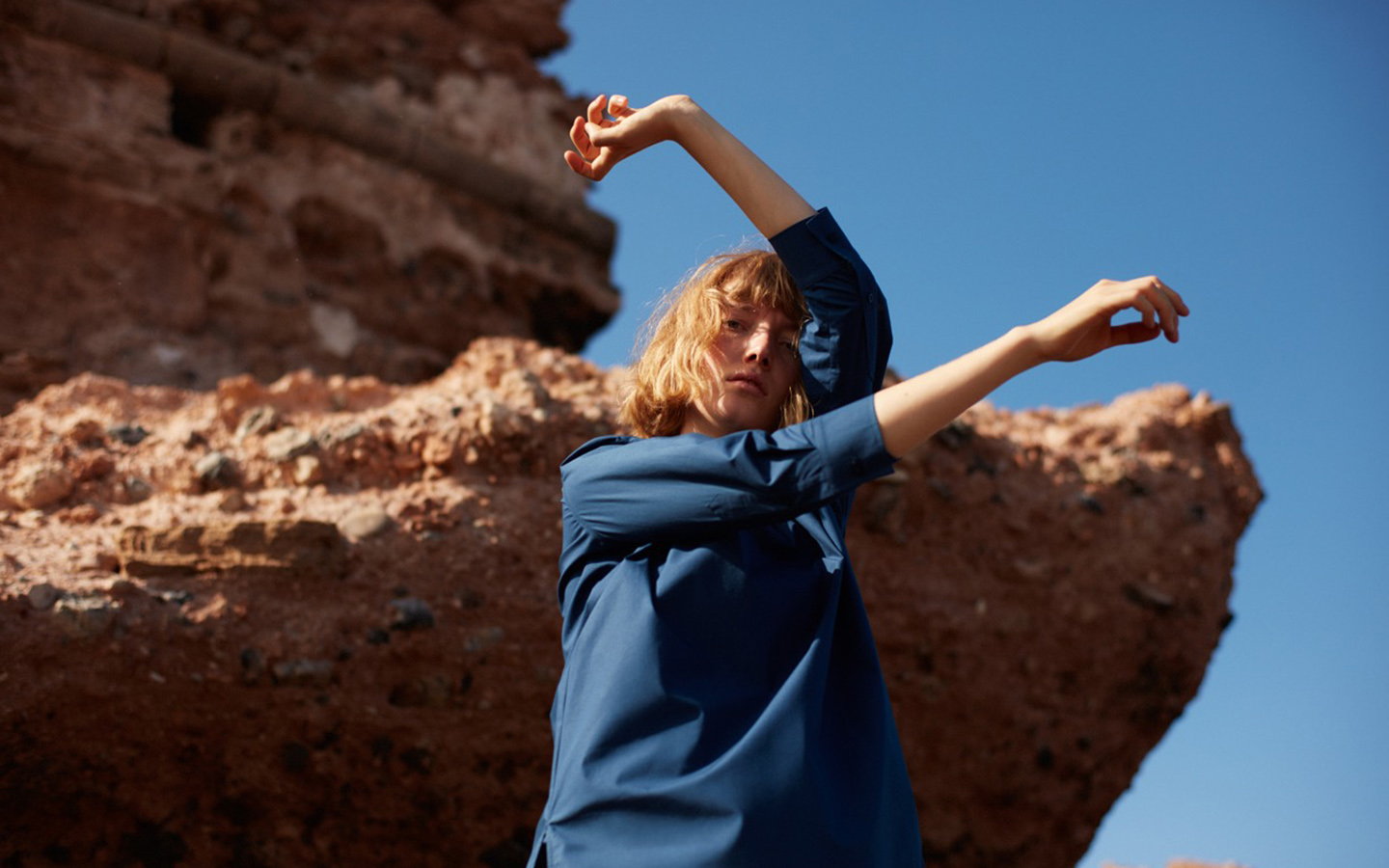 A good job really, because the pace for Studio Nicholson is about to gain serious momentum, with the collection expanding to include a new menswear range and a retail space on the horizon. Wakeman accepts the path she has chosen is certainly not the easy one "In general I admire anyone who doesn't accept defeat. In making this really work over the past six years, time has been my main sacrifice, and running this business has demanded 100% of my attention. I work when I need to, which is most of the time, but I am good at switching off. It's a tough journey – I don't know any creatives who are happy with everything they produce, which is something I can completely identify with. I definitely thrive under pressure and deadlines, I am fighter, which I need to be; me and the team have some very exciting times ahead of us."