Whatever happened to #menswear? Lauren Cochrane finds out.
Words by Lauren Cochrane
Illustration by Becca Human
In the digital age, a lot can be read into a simple #. So the fate of #menswear – a hashtag that began in the distant days of 2010 when Tumblr was still a thing – is an interesting case study in how the internet eats itself. At its start, #menswear posts denoted all things men's style  – with style icons including Nick Wooster, ex-Neiman Marcus buyer, and Bergdorf Goodman's Josh Peskowitz the figureheads. So far, so classic GQ-approved idea of modern gentlemanly aspiration: pocket squares, watches, cultivated beards. Three years later, as was inevitable, #menswear was something entirely different: a parody, a meme, with a tie-wearing dog as its figurehead no less. And three years after that? The Business of Fashion declared #menswear "dead". 
The internet is a cold and fickle place, that much we know. But what does all this mean for a hashtagless menswear – as in the business of clothes bought and worn by men? Where is that at in 2017? Paradoxically perhaps, the sector is very much alive – in fact, in the short life cycle of #menswear, it has boomed. A report earlier this year from Mintel predicted that the growth of UK menswear would outstrip that of womenswear by 2020. Up 2.8% in 2016 – more than double that of womenswear – it is predicted to grow 12.3% between 2016 and 2021 to reach £16.3billion. The conclusion? Men are buying more clothes – or certainly spending more money on them. #menswear is dead but menswear is very much alive.
As a woman writing about menswear in the 2010s, I have seen firsthand how this growth has developed. The London menswear shows began in 2012 and now comprise four days of varied presentations – young talent, established brands, celebrity labels and, of course, parties. It's been really exciting to see the rise of razor-sharp talents like Grace Wales Bonner and Martine Rose in particular. Wales Bonner is 26 but has a frighteningly mature vision. It's one that muses on her mixed-race identity to create shows that move audiences to tears, and clothes that, with their ornate detailing and fluid shapes, challenge the basic shapes – T-shirts, shorts, trainers – that men have become accustomed to. In Wales Bonner's world, men can be romantic. Rose, meanwhile, is on the team at Balenciaga with fashion's current overlord Demna Gvasalia. With that and her own London-based label, she is at the forefront of making the impossible possible – corporate is going cool, with high-waisted trousers, oversized sweatshirts and Dad caps part of her dad-on-the-weekend aesthetic. 
Yes, really. 
If, 15 years ago, most non-fashion people's idea of fashion was strictly supermodels in pretty dresses, this has shifted – well, a bit anyway – to include men. I cover the men's fashion shows twice a year in the same way as I cover womenswear, and menswear is now even able to dictate the trends. The seventies, big logos or gorpcore – aka camping chic – are all recent trends now commonplace for women that started their life on menswear catwalks. Men's shows are now an accepted part of the fashion calendar, even covered by ostensibly female-focused outlets, like Vogue. The screen is coming down between the two as womenswear realises menswear is well worth hearing out.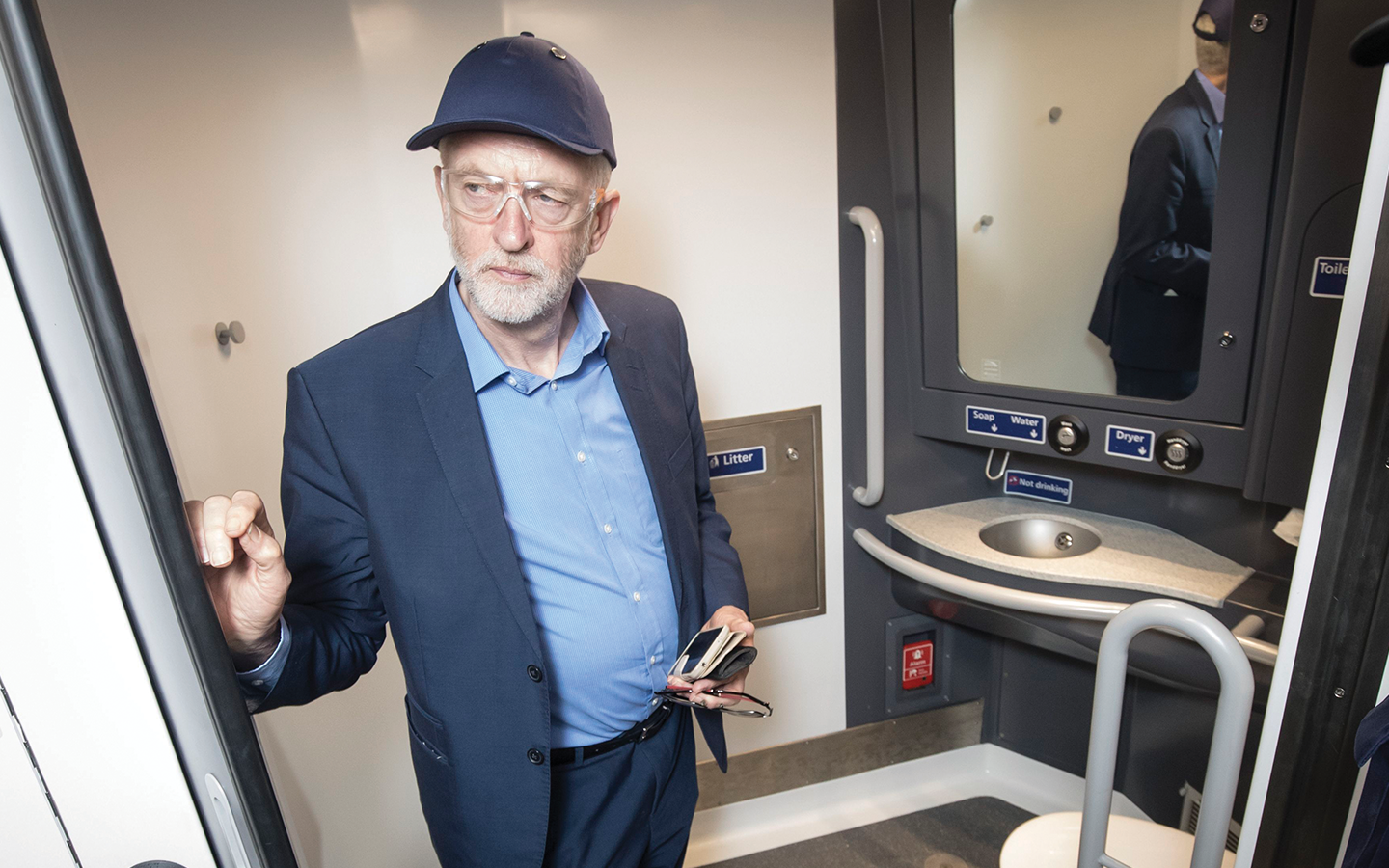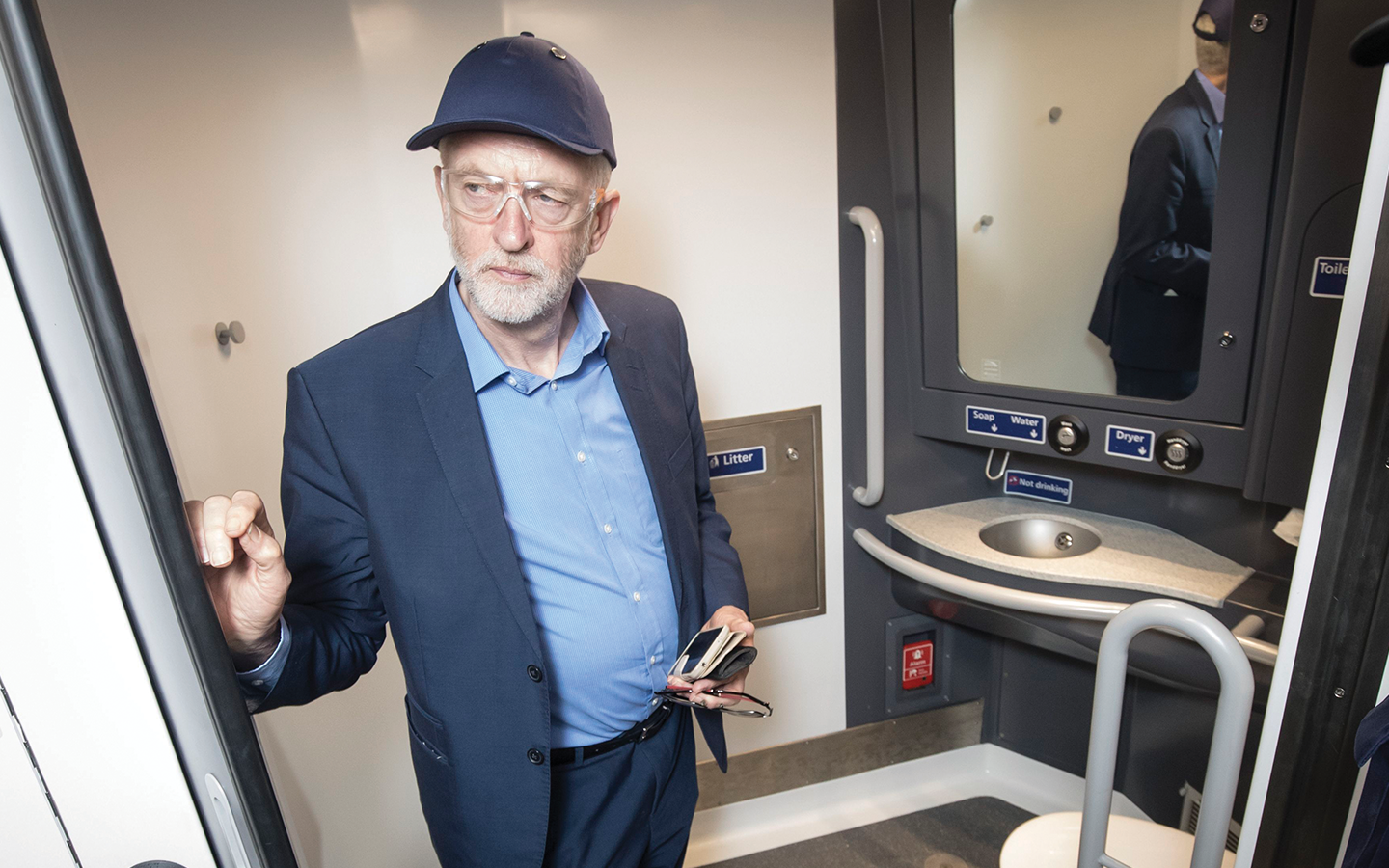 Jeremy Corbyn's much celebrated 'Vetements-like wardrobe'. 
The boom of streetwear – and its uptake on the catwalk –shows just how menswear has become a much more vocal member of the fashion conversation. Once limited to earnest young men in skate shops, Vetements, Off White and Gosha Rubchinskiy are labels that take their cues from streetwear but put it on the catwalk and sell it to a luxury customer. It has influencers beyond Kanye West. See Gully Guy, aka 14-year-old Leo Mandela from Warwickshire, who has over 300,000 followers on Instagram watching for selfies of him wearing Supreme and Palace, or Daniel Pacitti, the 18-year-old influencer who has already collaborated with Nike. Louis Vuitton's collaboration with Supreme, meanwhile, was front-page news on the Financial Times when it launched via pop-ups in July this year, with young men queuing up to get their garms at one pop-up in London. Missed out? Don't worry, a Supreme Louis Vuitton box logo tee could be yours on eBay for a cool £7,700.
#menswear has become a parody of itself, but menswear street style is bonafide. Pitti Uomo, the trade fair that happens in Florence twice a year, is on the verge of jumping the shark when it comes to its 'look' – a sort of hyperrreal take on flamboyant tailoring where the word 'peacock' is seen as a good thing – but there's no doubt it's given a platform to guys in the industry. Men including Brian Sacawa, Lorenzo Liverani, and Joshua Kissi and Travis Gumbs of Street Etiquette have all built businesses from looking sharp.
This feeds into the fact that there is just more interest in what men wear generally – from Jeremy Corbyn's Vetements-like wardrobe to the males of Love Island's propensity for white jeans. We're simply talking about men's clothes way more. The casualisation of fashion has affected men more than women. With ties no longer mandatory in the Houses of Parliament and more and more men working in environments where a suit isn't required, there's a general loosening up of dress codes. Men now have style icons beyond whose image is generally in black and white – the likes of James Dean and Steve McQueen. There's Ryan Gosling, a much-mocked but legitimate role model of the considered casual look, A$AP Rocky who should be applauded for trying to make gorpcore happen and, of course, Kanye West, a man who has single-handedly persuaded other men to try out everything from extra-long T-shirts to leather trousers.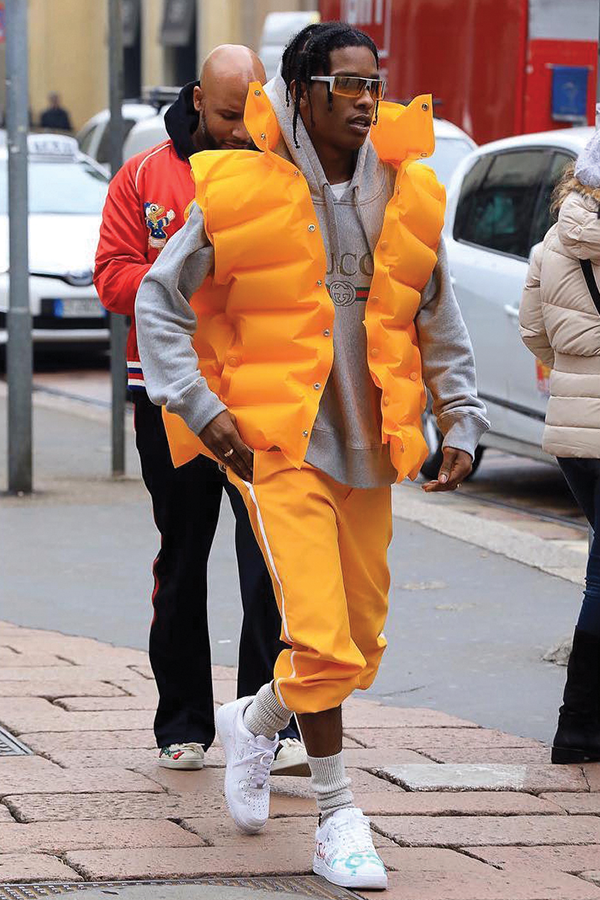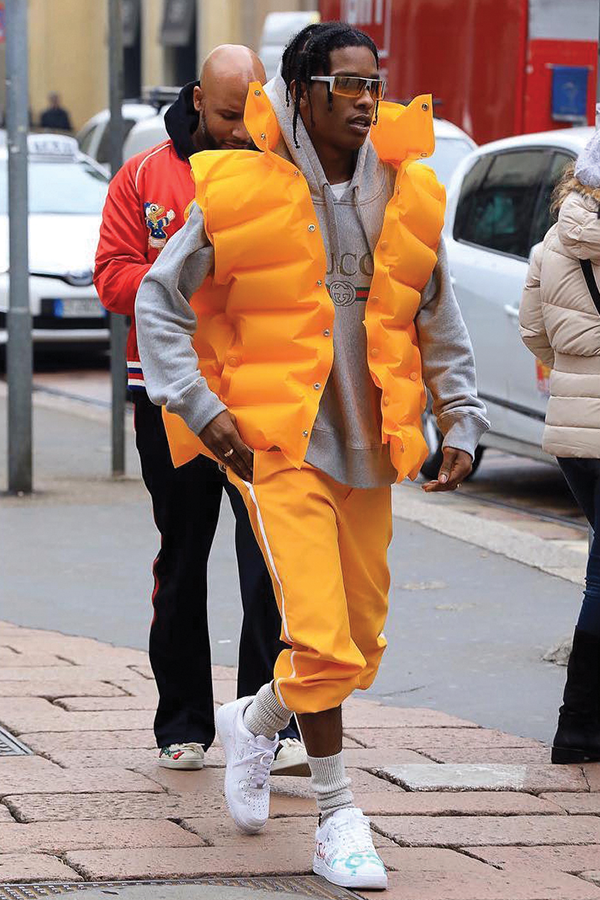 Shop Horror! A$AP Rocky wearing Balenciaga Women's SS17 in Milan
People say the biggest difference between men's and womenswear is that trends move more slowly with men. Menswear is catching up, though. When London Fashion Week Men's started in 2012, it was all about the tailoring, with brands like E Tautz and Richard James the big shows. That's changed – in fact, I would argue that we're now on the cusp of a second shift. After an initial streetwear wave – Astrid Andersen, Cottweiler, Christopher Shannon –  the most recent incarnation of London menswear is a kind of no-holds-bars creativity. You see, the latest thinking in menswear is not really about men at all. 
June's London Fashion Week Men's, showing the spring/summer 2018 collections, was a case in point. From Charles Jeffrey's joyous show of dancers, children's drawings and a whole lot of pink to Art School's performers and Rottingdean Bazaar's art objects, this might ostensibly be the menswear catwalk but gender is blurring in magnificent ways. Men wore ballgowns on the Jeffrey catwalk and both genders played with traditionally male and female clothing at Art School (a sexy red dress on a man, a City suit on a woman). The label, founded in 2016 by couple Eden Loweth and Tom Barratt, describes itself as "a narrative of non-binary paradise". This is added to by new label Blouse – founded by Geoffrey Finch and out to give men and women access to the same frills and lace in a non-gendered collection – and Ashish's collection for River Island. Launching in September, the collection is designed to be worn by couples. It's all very far away from #menswear's pocket squares. 
But that is the point. As menswear grows, it is changing – adapting to express the needs and preoccupations of a new generation. This shift has been on the cards for a while, of course, with Gucci the shining example that proves an androgynous look can be a hit. I remember Allessandro Michele's first collection at the menswear shows in Milan in 2015 – the sight of a long-haired blond boy in a red blouse felt like a proper fashion moment, one where things had changed. Gucci has sold in the Michele era – sales increased by 17% in the last quarter of 2016 – a sure sign that men don't just like to look at this vision of a man, they want to actually buy into it (Harry Styles has become the figurehead, wearing floral suits and floppy blouses on his recent tour). 
"The idea of 'boyfriend dressing' could soon fade to black as couples dress in each other's clothes instead."
And it's not just men that are wearing menswear – as well as Gucci, labels including Grace Wales Bonner and Cottweiler have a strong female following. Personally, I have my eye on a sweatshirt from Martine Rose's latest collection. 
The designers at LFWM are all in their 20s – a cohort where gender fluidity is becoming a norm rather than a concept. A survey of 18-34-year-olds in 2015 found that 50% of respondents believed gender to be a spectrum rather than restricted to female and male. These designers both fit into that idea and are appealing to other people – their potential customers – who feel the same way. As the Ashish collection predicts, the idea of 'boyfriend dressing' could soon fade to black as couples dress in each other's clothes instead.
All this raises the question of whether men's and womenswear could potentially come together as we do away with gendered fashion. It's already happening with the likes of Gucci and Paul Smith streamlining shows to feature male and female models. Personally, I feel all of it coming together would be a shame – and not only because it would hinder my trips to Paris in June, the loveliest time for the city of light. Menswear now is on song – it's going places and I, for one, would like to see where it goes next.