Matthew Miller forgoes business plans and just gets on with the job for Spring/Summer 2016.
Words by Calum Gordon
Photography by Michael Mayren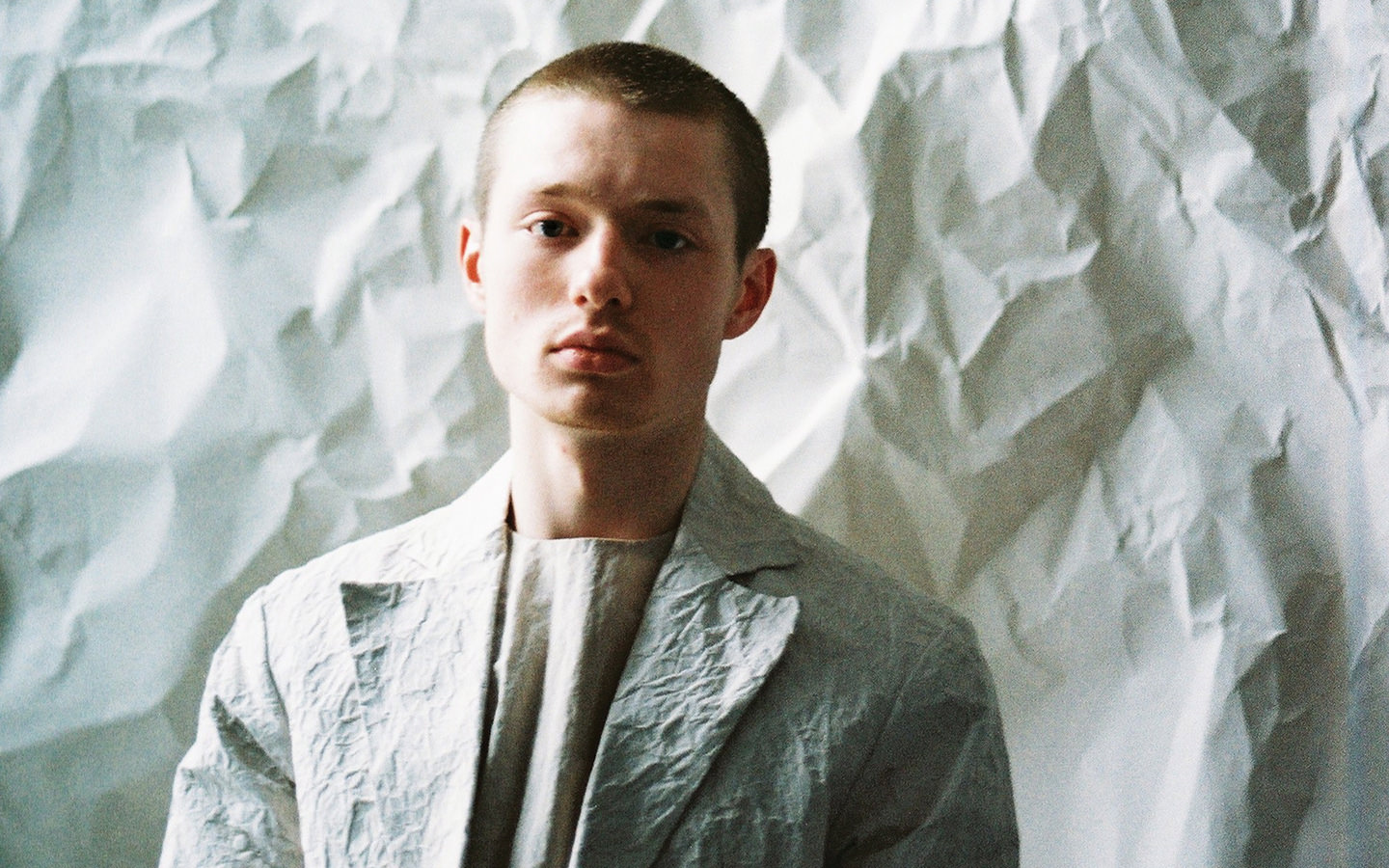 "It is an exploration of conformity and the subsequent desire to destroy it," Matthew Miller remarked to me in the days that followed his Spring Summer 16 collection. Presented at London Collections: MEN, the English designer's offering was refined in its execution, but it carried with it Miller's typically rebellious signature – if you were prepared to look deep enough. "I researched in-depth how uniforms twist and contort around the human form and restrict both our movement and our freedom," he said.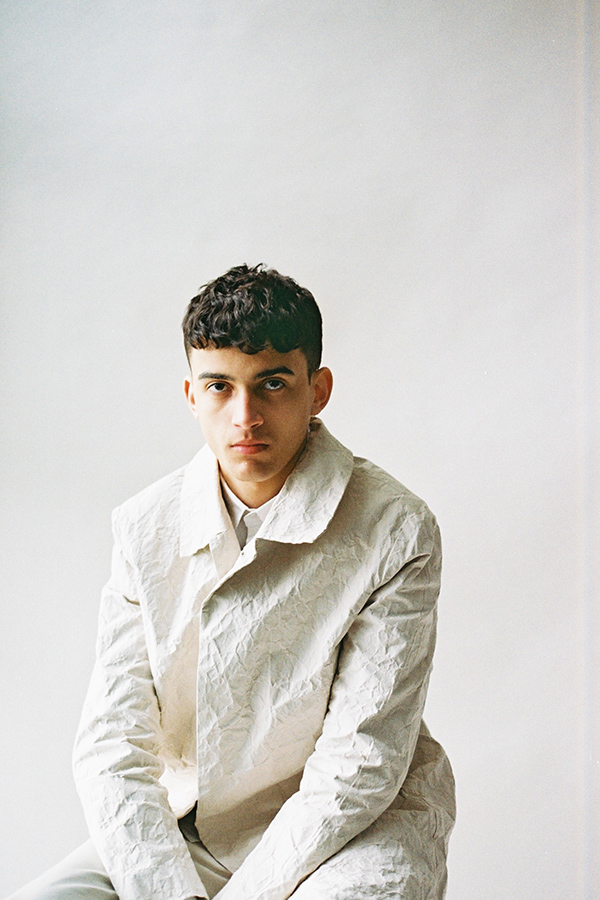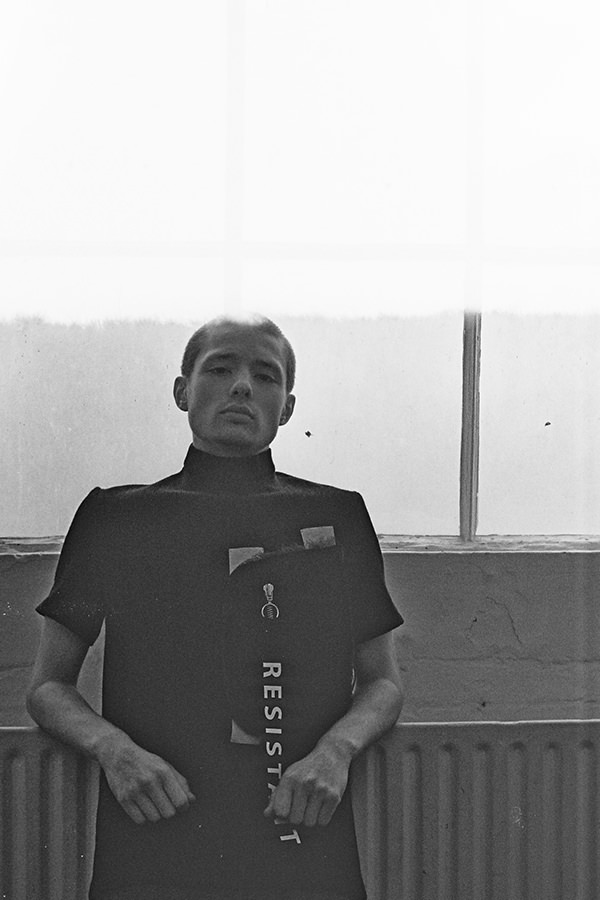 "Miller is part of a new generation of British designers flicking two fingers at both the established fashion hierachy and also a mawkish preconception of what British fashion should be."
The collection was a reaction to having to write a business plan to submit to the British Fashion Council and GQ Designer Menswear Fund apparently. He did not win, but that was not the source of Miller's ire – it was simply the monotony of having to jump through such hoops, caught up in a maelstrom of long days, word documents and spreadsheets. Fittingly, each model wore a wristband with a barcode around it – a 1984-style nod to modern-day Britain. This collection, however, was a more subtle form of rebellion than we had been used to from Miller, who has shown a penchant for emblazoning slogans or words on his garments previously. Here, he let the fabric do the talking – and in many ways it was more powerful. A crinkled fabric appeared throughout, distorting otherwise beautiful tailoring and warping conventional garments to create an intriguing dissonance. At times, the fabric looked like crumpled, discarded paper – perhaps an unintended reference to Miller's earlier attempts at penning a business plan.
"Materials and material research is one of my foundations as a designer, something I excel at, and is an element I look to improve on every season," Miller chimed. "The 'paper' looking fabric is actually two layers of cotton that have been bonded to an extremely thin alloy. This is what gives the fabric that very distinctive look of creased paper, I choose the fabrics for their aesthetic as I wanted to make the models look like they were wearing exactly that."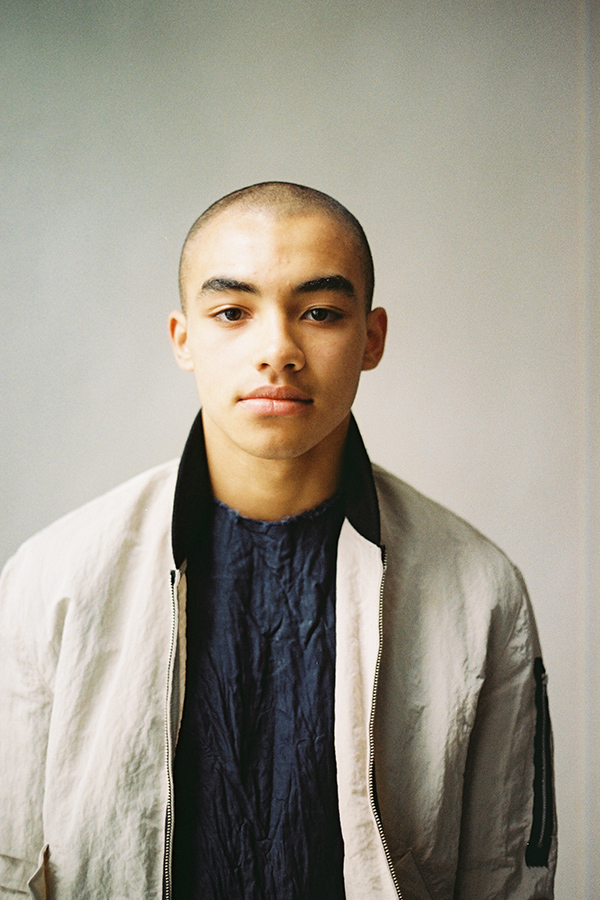 In just a few short years Miller has become a staple of London's burgeoning men's fashion week. His conceptual approach to design, married with some truly excellent execution, is no doubt why he has become one of the capital's most feted names. For Miller, it is a symbiotic relationship with the place he now calls home, informing both his thinking and his designs: "I adore the multicultural aspect of the city, the diversity of language, culture, food and drink. London has everything you could ever dream of." 
Miller, however, grew up in Stoke, not London, living out a typically normal childhood of cheap thrills and narrow brushes with the law. There were no trust funds or internships in major fashion capitals – he was, by all accounts, pretty normal. And that grounded upbringing shines through in his work, as he fuses a working class sensibility into a refined, androgynous vision. Miller is part of a new generation of British designers flicking two fingers at both the established fashion hierarchy and also a mawkish preconception of what British fashion should be.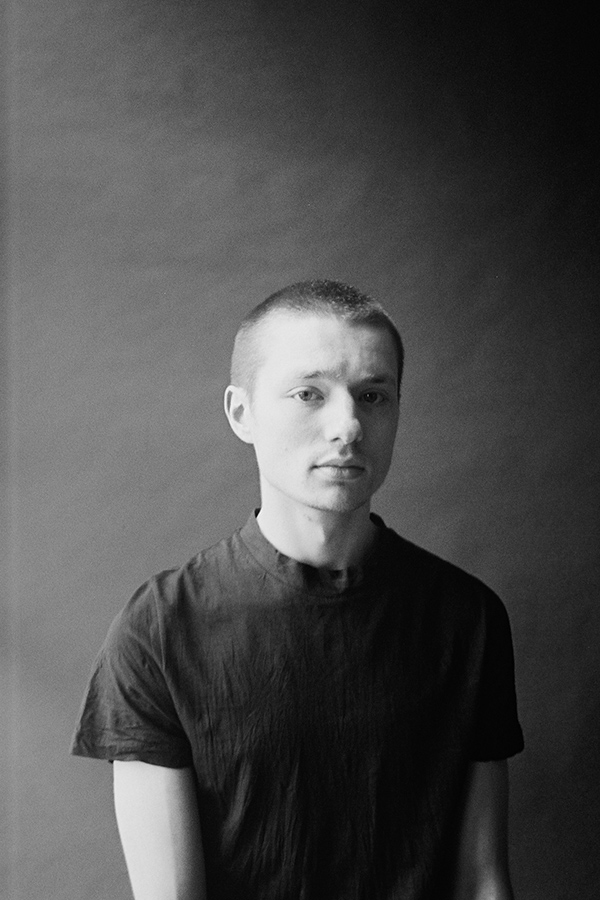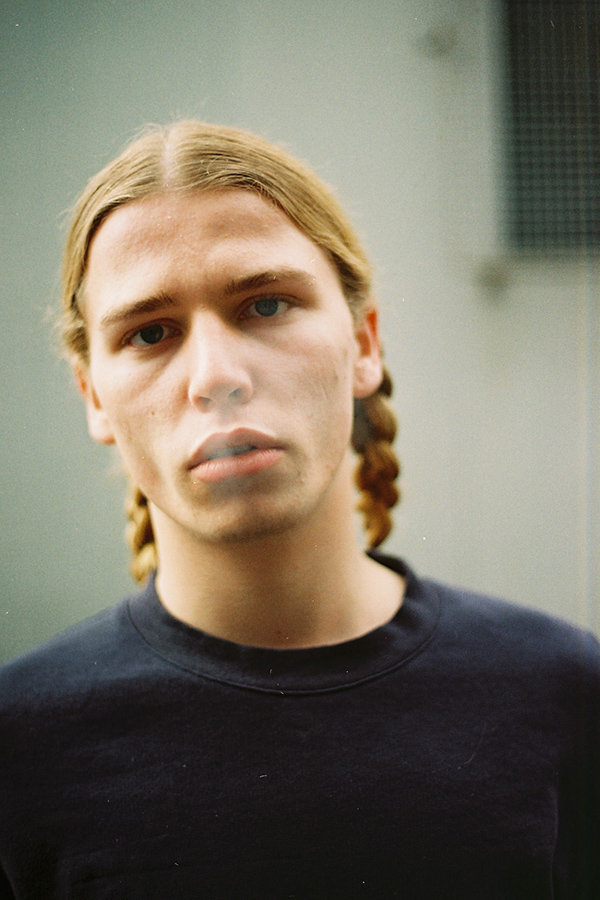 After graduation from London's Royal College of Art in 2009, with a final collection that was singled out by Vogue, Miller would go on to present his Autumn Winter 2011 collection at Fashion East. Soon after he would travel to Paris with a suitcase of duffle coats – the most beautiful duffle coats he has ever seen, he adds – where he would secure his first stockists. It would be fair to say that Matthew Miller, as a brand, has grown considerably since then, picking up stockist that include he likes of Dover Street Market and Tres Bien. "It helps enormously that people take London business seriously," he says. 
Yet, despite his growing business, Miller maintains a fairly tight operation. From marketing to casting to fabric development, he is decidedly hands-on in his approach. In the past, he has likened it to the Dutch concept of Total Football, such is the evolving role of a menswear designer in today's current fashion climate, where they also act as publishers, manufacturers, spokespeople, team managers and everything else in between. And despite his increasing profile within the world of fashion, his output shows no signs of dulling the provocative, political attitude that accompanies each offering. Indeed, in the face of rising rent prices, tuition fees and, as a result, genuine talent being priced out of places at London's top design schools, perhaps Miller is needed as an agitator now more than ever.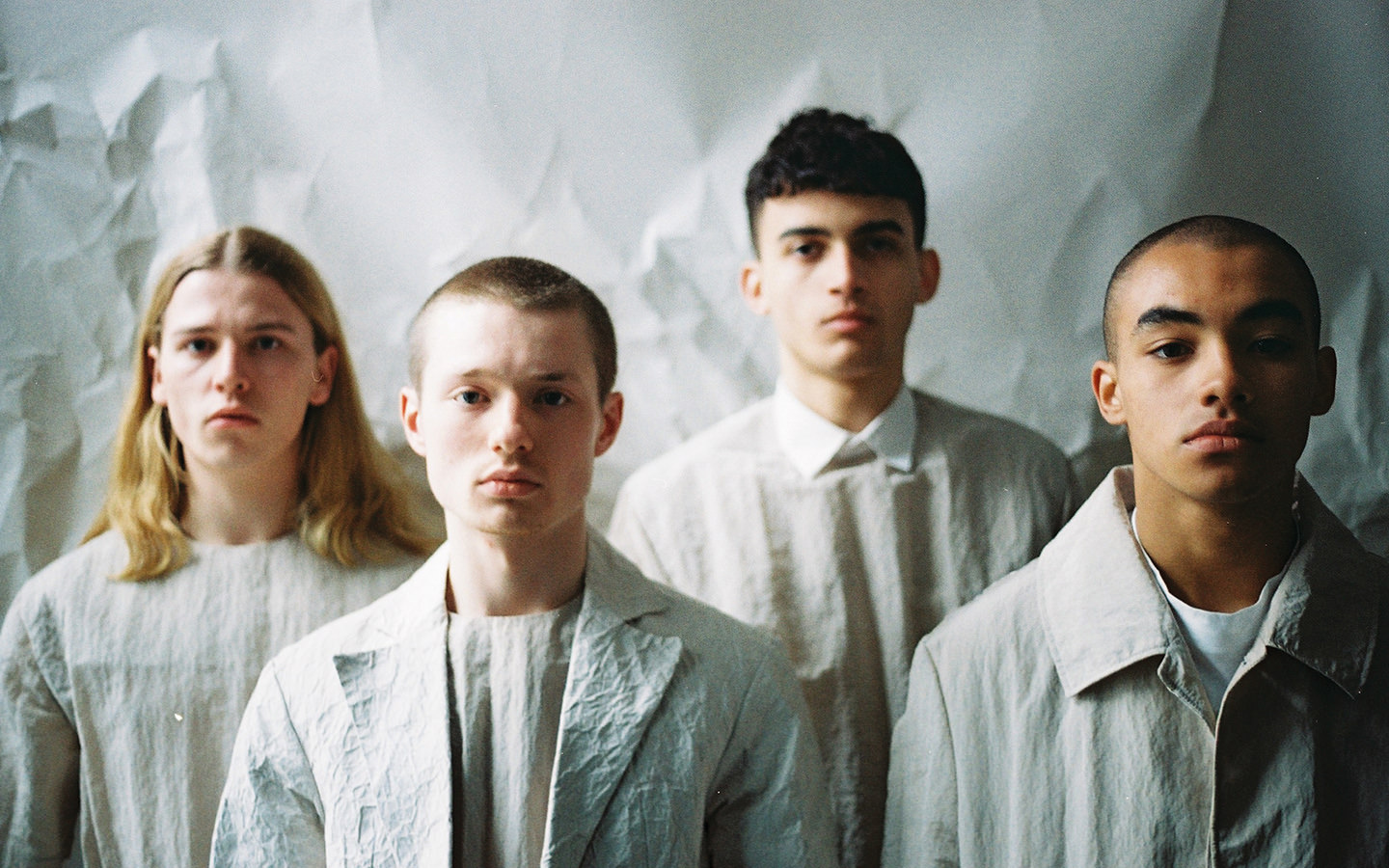 Photographer: Michael Mayren
Fashion: Glenn Kitson
Styling Assistant: Holly Macdonald
Hair and Make Up: Melissa Valentine